Radio Days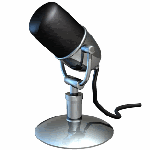 Recorded a few episodes of some podcasts over the week.A couple for my Mac user group
PhilMUG
and one for the magazine I edit,
m|PH
.
Brings back a lot of memories from my radio days. I worked in FM radio for almost two decades, and in the course of that time I did many many hours of live talk shows: I co-hosted a weekly three-hour one wiith writer Jessica Zafra for close to seven years; I also cohosted a weekly three-hour midnight live call-in advice show - now that one was interesting - for several years, as well as pinch-hitting for several others.
Even though I griped about how hard it was back then, I actually enjoyed doing the shows immensely. When I retired from radio in 2002, I didn't miss it at first, and I actually didn't realize I'd been missing it already until I recorded the podcasts several days ago. You can take a guy out of radio, but you can't take the radio out of a guy. Or something like that.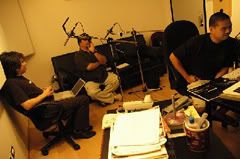 I first recorded a couple of episodes of the PhilMUG podcast with Elbert Cuenca, current Chairman of PhilMUG at
HIT Productions
, courtesy of former PhilMug Director and HIT part-owner Vic Icasas, who sound-engineered and produced the episodes.
The recording last Saturday lasted longer than we expected, because we sort of came in with the idea that we could just wing it and make it up as we went along, which almost never works. A rough outline would work for me, but it was Elbert's first recording, and we often had to stop and backtrack whenever someone goofed - instead of just making light of the boo-boo, laugh about it and just barrel along, recording everything as "live". That was usually the quickest way to do it, but it only works if you're doing a show with experienced hosts. Plus, I was coming off a bad cold and essentially had a stuffed nose and no voice. We had to break for lunch before going on with the second episode. In the end it was ok (even if I have yet to hear them.)
The m|PH Podcast recording went much smoother and quicker. We recorded it Monday night at another Philmugger's studio, Ditoy Aguila's
Soundcrew
in Ortigas. With me were the two managing editors of the magazine, Art Ilano and
Jayvee Fernandez
. We decided to talk about the new iPod and the phenomenon of
video-on-the-go
, as well as talk about the magazine.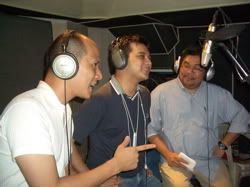 I was determined to do it faster and better this time, and I just took charge of the hosting. It usually works better if someone sets the pace and energy level, and hope that the others just catch on and join the ride. They alloted us over an hour's studio time to record a ten-minute podcast, and I wanted it finished before then.
So we talked briefly about what we were going to do, and signaled them to turn on the mics. Amazingly, it ran flawlessly and quickly, on time and way under budget. One take! Art and Jayvee were naturals, and we had a great time doing the show. It also helped that the sound engineer was running the intro and background music under our chatter. We were surprised ourselves that it was over that quickly. It was one of the few instances where "winging it" actually works; I guess we had the right chemistry for it.
Both shows will premiere in a big Podcast event on November 22, where 25 different Philippine podcasts (including Philmug and m|PH's, as well as Jessica Zafra's and many others), and will be available for download internationally starting then. Jessica and I will also be recording the
Twisted Radio Show
podcast sometime soon so it'll be one more to put on your iPod.
So in a manner of speaking, it's back to "radio" for me all over again.
(Photos snagged from Vic's and Jayvee's blogs. Photo credits: TJ Parpan and Kris Reyes)