Something I Would Love On My Wall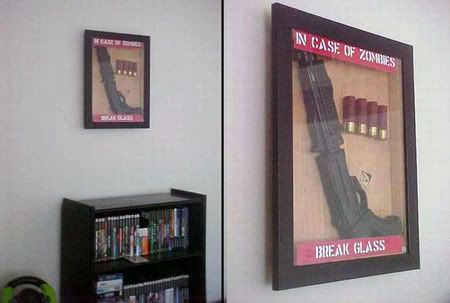 Adel!

Yo, we updated blogs in the same day?

Great minds and all... (naks)

Happy Anniversary to you and your bride! Peace and a happy life in the years to come.

Of course the zombie weapons are by the DVD collection. It's guarding what's important! =>

Yeah, weird coincidence. Dunno about the great minds part, though. You do a long and comprehensive piece on books and reading, and I put up a silly picture, no text, even. Not quite the same, save for the synchronicity.

Been guilty about not updating this blog, and P.W.I.T. Between doing daily updates for my Mac blog and monitoring the blogs of my magazines, I've no time and energy for my own personal one. In fact, if I hadn't seen this great pic, cribbed it and realized I don't have a place to post save here, I wouldn't even have "updated" it. Sigh.

Will try to be more conscientious about this blog. *crosses fingers*

Nyahahahaha! I want it! Alavet!!!

Sis! How's my favorite mountain climbing sister? Long time no anything!

Hey bro! Nakakainis kasi ang LJ, blocked in China, nakakatamad tuloy. If only you were a chat regular, noh.

Honga. Wala akong pasensya sa chat kasi, but for you I will make an exception. Will try to catch you online.

Astig!
Would want to have that, too, but I don't think it's appropriate to have that aroud my 4-year old daughter. baka ina ang epekis sa utak nya!