Just because
My wife had planned a dinner with a friend,
Eliza
(who's here for the holidays from China) at a little Italian place in Cubao called
Bellini's
.
Mano
and Eli decided to bring me along.
While we were at it, we thought to invite a couple of other friends -
Carlo
and
Nina
.
And our other friends thought to invite our other friends, and they in turn called other friends, and pretty soon we were surprised to find our intimate little dinner was a now a virtual party potentially almost two dozen strong.
Most of us got to know each other through our
Mac
user group many years before, and we used to hang out in that context. But last night I was pleasantly surprised to realize that we were friends now separate from that old connection, and hardly any of us even made that association any more.
We were all just plain friends. None of us were related to each other, which is the usual framework for these groupings (except for the married couples - some spouses had been willingly assimilated into the group, like Mano), and we were a group of friends basically because we just liked each other. As a matter of fact, now that I think about it, Eliza was my friend first - she just got to know my wife through me, and now the two are even closer to each other than I ever was to Eli.
Even some friends I hardly see had made it -
Kelvin
the musician was there,
Gabe
the comedian, my namesake
Doc Adel
, photog-turned-ad-guy
Miguel
, sometime-neighbors
Brian
and
Kris
.
Four couples didn't make it in the end -
Ditoy
and
Iya
,
Vic
and
Cyn
,
Toto
and
Pierra
, and
Myles
and
Ria
, but we had a nice time anyway, and closed the restaurant down last night.
In the intervening years since
PhilMUG
some of us got married to each other (or will be), and some of us even got to work with one another. I used to edit a US-based magazine and worked with Carlo who was our art director. My wife, who edits a magazine too, has used pro photographer
Kai
for some shoots. Kai's girlfriend
Sharon
has used my wife as a voice talent for some radio commercials. I used to work with
Liza, Elbert
's wife, in a big publishing company. I've traveled with Elbert out of the country a few times - the last time was when we watched the F1 Race together in Malaysia earlier this year.
We don't see everyone all at the same time though the year, and at that, we see some more than others, but somehow we all gravitate towards each other during Christmas, for several years running now. Like last night.
I really don't know why I'm compelled to write about this, other than the fact that I am just happy that in this crazy and impersonal world, some nice and personal things still happen, just because.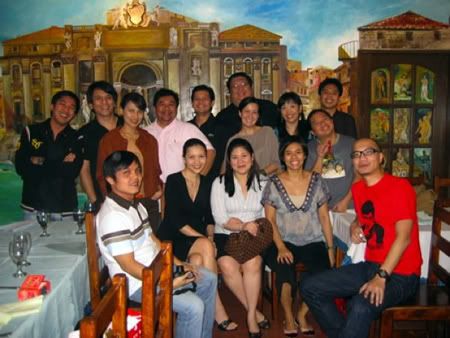 Pic courtesy of Eliza Santiago